Hoang Quan Vu


Financováno z projektu Erasmus +
My name is Hoang Quan Vu, Vietnamese, currently studying at Obchodni Akademie Praha. I participated on the internship in Cork, Ireland thanks to sponsorship of my school and Erasmus+. The internship took place from the beginning of May to the beginning of June. The picture below is of me and my lovely host family in Cork.
During the internship, I worked for John Dooley Golf Ltd. a company which design golf tours. I worked directly with the company's founder and president, Mr. John Dooley (picture below). Arrived at the company without any knowledge about golf, I received a lot of help from him. He is a very warm, friendly and professional boss.
Accompanying with us was our English teacher, who is an Irish, she helped us organized our trips. So apart from all the works, I had a lot of fun exploring Ireland with my friends. We went to a lot of tourist attractions: The Jameson whiskey Experience, kissing the Blarney stone, the Titanic experience, Crawlford Art gallery,… But my favorite place would be the Cliffs of Moher, which has the most magnificent scene I have ever seen.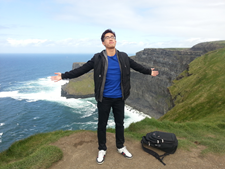 At the company, I assisted Mr John designing golf tours for our clients. We arranged for our clients accommodations (self-catering or hotels), transportations (car renting or public transport), communication (SIM card, mobile network), attractions to visit, places to eat (restaurants, bars). Every week we would receive about 2 to 3 service enquiries. Every day, I had to send emails or make calls to hotels and golf links to make enquiries; look up for car rental options and traveling routes; compile a list of attractions for them to visit. After making all the bookings, I checked all the confirmations from hotels, golf links and car rentals company, make sure all the payments have been received and filed them.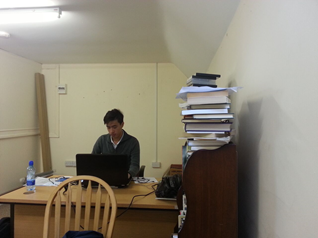 My group in Cork consisted of students from many different cultures: Czech, Russia, Ukraine, Uzbekistan, China, Kyrgyzstan and Vietnam. Triumphing over the language barrier and our backgrounds, we managed to get along very well and new friendships were developed. We went together on trips and had a lot of fun. I believe that this is one of the things I like the most about my time in Cork. Below is a picture of me with the cake my new friends bought me for my birthday.
To summarize my experience, I would say that it was simply an
amazing month in Cork, Ireland. Not only was I able to adapt to living in a foreign country but also in a professional working environment. This internship was an opportunity for me to polish my writing English, to develop my independent skills as well as self-discipline. I feel very lucky that I was able to participate on this internship